I've been really looking forward to making this recipe.  Unfortunately, my rendition didn't quite live up to my expectations.  I am attributing this to my own execution of the recipe and I will probably have to try this recipe again when I have a little more time.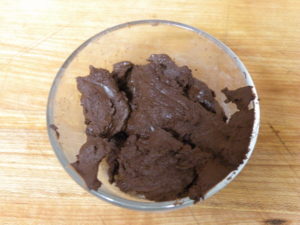 The cake batter is the same batter that we used for the ice cream sandwhich a couple of weeks ago.  We really enjoyed that cake so I knew that I wouldn't be disappointed as far as that went.   The batter mixed up easily.  I did, however, have the same problem as last time when the cocoa and water turns into a paste rather than a smooth mixture.  I am taking comfort with the fact that other people seem to be having the same problem as me and since it doesn't seem to affect the outcome, I am just not worrying about it.  I made what I see as my biggest mistake when I filled my cupcake liners too full.  It seemed like I had about 3/4 of an inch left from the top but I only ended up with 9 cupcakes and clearly after they were baked they were not flat like in the picture.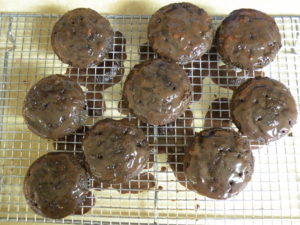 The second step was to take the hot cupcakes and poke about a dozen holes in each one with a skewer.  Then we were to pour milk chocolate ganache over the top of the cupcakes and into the holes.   I had two sizes of skewers and I opted for the smaller one to poke the holes.  I seemed to have problems getting the ganache down inside though, and I would probably use the larger one next time.  I did feel like I had filled them pretty well, but after they sat a while I could see that there was still space in a lot of the holes.  Because of time, I did not go back and make more ganache and fill them in.
The third and final step is to make the Lacquer Glaze.   This is the part that I expected would make these little cakes over-the-top delicious.  In the picture it looks so thick and smooth and so I  expected a fudge like texture.  My glaze, however, turned out pretty thin and runny, even after it cooled a bit.  So the million dollar question is — is the glaze in the picture actually thicker than mine, or is it just that the cupcakes are very flat which makes a thicker layer of glaze possible?  I think I made the glaze correctly,  but I was having problems with my thermometer so maybe I didn't do it exactly right. I'm not sure.
Anyway, the cupcakes were good, but not exceptionally better than any other chocolate cupcake.  Even my son, who is not really a chocoholic like myself, thought the glaze needed to be thicker. So I will have to leave it for now but when I get some extra time, I will be cooking these up again.