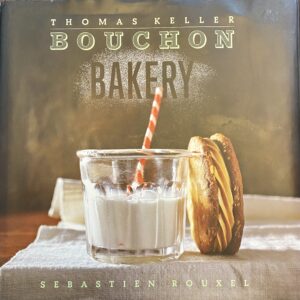 As I've said before, baking is my happy place! Over the years I have baked everything from brownies to cream puffs.  I started out baking small birthday cakes for family and before I knew it I was decorating large wedding cakes for the local bakery. I have always enjoyed developing my baking skills and rarely felt intimidated trying new recipes and techniques.
But I'm going to let you in on a little secret of mine. I am embarrassed to admit this, but I've never been good at baking bread. I'm not talking quick breads, I'm talking REAL bread. The kind that uses yeast, and bakes up with a beautiful crust, and tastes delicious. This confession is shocking, I know. It's not that I've never tried, because over the years I actually have made several wholehearted attempts at baking bread. But inevitably, it just never works out.
Several years ago I took a fun little weekend getaway with my husband to Portland, Oregon. One of the things that we did while we were there was go to Powell's book store, or more formally known as Powell's City of Books. Now if you have never been to Powell's, you have really missed out. Powell's is the largest independently owned new and used book store in the WORLD and they have been in business for 50 years. The Burnside location covers an entire city block and is estimated to have approximately one million books. The books are a wonderful mix of both used and new books, all intermingled together in what must be thousands of shelves. The organized by subjects within nine color-coded rooms that are connected by odd stairways and passages. In fact, Powell's even provides maps at the front counter so that you can figure out where to locate your book. It's extremely easy to get lost in this book store, which is exactly why you need to go.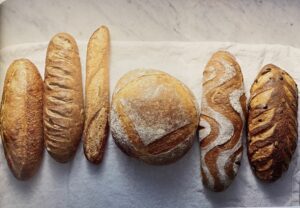 Anyway, while wandering through stacks and stacks of books, I happened upon a beautiful book by the name of Bouchon Bakery, written by Thomas Keller and Sebastien Rouxe. Bouchon Bakery was founded in 2003 by renowned chef Thomas Keller in Yountville, California. It was originally opened to provide artisanal breads for Chef Keller's nearby restaurants. However, the bakery became a popular location to visit in it's own right. This is absolutely no surprise given the exquisite breads and desserts shown in the many gorgeous photographs in the book.
I had every intention to start baking my way through that book right away, but one commitment after another kept taking priority. Before I knew it the book was being packed away for a long-distance move and then it remained in storage for nearly a year. I kept thinking about improving my bread baking, and of course the Bouchon Bakery book is what I knew I needed to use. I'm happy to say that I have finally managed to procure my book. I have begun my bread baking journey and I'm excited to start sharing my adventures with you.
References:
Powell's City of Books. (n.d.) Retrieved from https://www.travelportland.com/attractions/powells/
About Bouchon Bakery, Yountville, CA. (n.d.) Retrieved from https://www.thomaskeller.com/bouchonbakeryyountville
Powell's City of Books. (n.d.) Retrieved from https://www.powells.com/locations/powells-city-of-books