You may be asking yourself what in the world this contraption is. . .   Is it a bird?  Is it a plane? Well, I was introduced to this odd piece of cooking equipment a few weeks ago when I took a cooking class at a local shop that sells kitchen and baking supplies.  At this class we learned to cook Thai food.  I had looked forward to taking this class for several months and let me tell you that it was exactly what I hoped it would be.   I will show you what I learned to make very soon.  But — back to our mystery equipment.  This is, of all things, a rice cooker!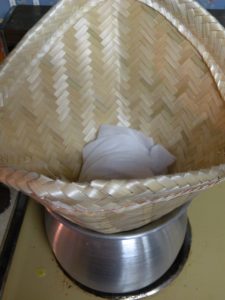 In Thailand, Laos, Cambodia and a few other places, they eat a type of rice called Khao Neeo or "Sticky Rice."  Sticky Rice is medium to long grain and is opaque white before cooking.  But unlike any other rice I've ever used, this rice is not boiled but "steamed."  So to make this rice you put water in the bottom pot and bring it to a boil.  The rice, after soaking it, is wrapped in cheesecloth and placed in the basket.  When the basket is placed on the pot — voila!, you have a rice steamer.
And something else that makes this rice unique is that it  is not eaten with a fork or chopsticks.  This rice is eaten with your hands.  To eat it, you take a large ball of rice in one hand, pull a smaller piece off with the other hand and gently squeeze it into a clump.  You can then place it in your mouth or better yet, ,dip it into sauce and then eat.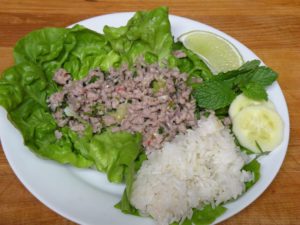 Thanks to my hubby, I now own this little piece of cooking equipment.  The day after I took this class, we drove down to the Asian market to buy some sticky rice.  Now this is NOT where I found my little rice steamer.  After that, we headed to the mall and while I was shopping with my daughter, hubby went browsing through Williams  & Sonoma.  He could hardly believe it when he saw them setting out this rice steamer.  He began talking with the sales clerks and they were thrilled that he could tell them about it.  Apparently they had received the item that morning and had absolutely no idea what in the world it was.  So next time you are in Williams & Sonoma, and you see this little item on the shelf, you will know what it is!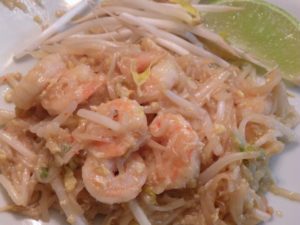 And if you haven't tried or eaten much Thai food you definitely should!  I love the layers of flavors that you get with each bite you take.  There's sweet, salty, spicy and sour all rolled into one.  Last week I was able to try my hand at cooking the Larb salad that I had been taught at my Thai class and I also tried a new recipe for Pad Thai.  They both turned out better than I imagined and we all ate WAY too much.   So my friends, you definitely must try some Thai food.  I know we are going to be eating a lot more of it.