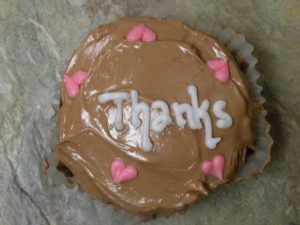 I just finished baking my first assigned recipe from an awesome cookbook called Rose's Heavenly Cakes.  I have joined a group of internet bakers who are all baking the same recipe each week and blogging about their experience.  The recipe this week was Chocolate Butter Cupcakes.  I was grateful that I was starting out on a somewhat easier recipe because this week has turned into a bit of a challenge for me which resulted in having to cook in a kitchen that is not my own. My husband has Alpha One and needs a liver transplant.  This week he was unexpectedly hospitalized for an infection and I have been staying at the Transplant House near the hospital since it is several hours from our home.  I was a little worried about having everything I needed and since I left home rather hurriedly, I didn't have time to bring baking things.  I was so happy to see that they had a KitchenAid and they also had muffin pans.  The kitchen actually was beautiful and more spacious than my own, but I felt like a fish out of water not being able to find things when I wanted them.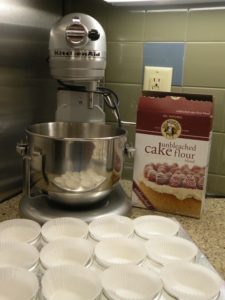 So there were a few "firsts" in cooking this recipe.  I don't know if I am strange or what, but I have never sprayed and floured my cupcake liners before.  Most of the time they come right off without a problem but I have had a few times that they didn't so I figured I'd better follow the instructions  and sprayed and floured the liners.  I noticed when I was icing the cupcakes later on that the papers pulled away very easily.  Another first was using King Arthur cake flour.  When I was in the grocery store I saw the King Arthur flour and since I had never used it before I thought I would give it a try (after all, it cost more than the other brand so it must be better, right?)  Lastly, since I wasn't at home with all my decorating equipment, I ended up decorating with some products I have never used before.
I was very impressed with how detailed Rose was about each step of the recipe.  I mixed the cocoa in the hot water and let it cool.  I mixed the liquid ingredients.  Then  I combined it all for the batter.  The recipe was really quite easy to make.  Unfortunately I didn't have my usual scoop for filling the cupcake liners so I just scooped them in using a regular spoon.  Into the oven they went.  The first time I checked them they weren't quite done.  You will see a big dent in one of the cupcakes in the photo where I pressed in a little heavily when I checked.  I gave them a few more minutes and they were done and looked beautiful.
For the icing I wasn't sure what we were supposed to do so I used one of the recipes recommended by Rose in the introduction  to the cupcake section.  I started out thinking I would make the Egg White Chocolate Buttercream but somehow got confused and did the shopping for the  Golden Neoclassic Buttercream and didn't realize until I was in the midst of making it that I had switched.  I was intrigued with the golden syrup that Rose talks about but wasn't sure what it was.  I'm not sure if it is karo syrup that is golden versus the light or dark syrup or of it is some other brand of syrup, but I couldn't find any so I went with the light karo.  The Golden Neoclassic was very different than any icing I had made before.  The only thing that went a bit different than the instructions was that when I had the corn syrup and sugar in the pan over medium high heat, I was supposed to watch for bubbles at the edge of the pan and let it cook a few more minutes until there were bubbles all over.  Mine went from bubbles on the outer edge to bubbling all over and bubbling out of control in a matter of seconds so I pulled it off right away.  I think this was probably due to the fact that I was working on a stove that I wasn't familiar with and it was probably cooking a little hotter than indicated.  I was a little worried that it wasn't going to be the right consistency since we didn't use a thermometer,  but I went ahead and added it to the eggs.  I whipped it until the bowl had cooled, about 7 minutes, and then added the butter and vanilla.  I then added some chocolate.    Normally I would pipe the frosting onto the cupcake with a large tip, but I didn't have my equipment and I'm not sure that this icing would have held up well with that.  It seems to be an icing that does better for just spreading .  The cupcakes would have been fine without any decoration but I decided that as long as I had all these cupcakes made I would take them to the hospital to give to the nurses as a thank you.  So I tried some nifty little squeeze bottles of Wilton icing I got from the grocery store and some plastic decorating tips. (This made me laugh because only a few months ago I got mad at a friend of mine for using these instead of the regular bags and tips.)   I was much more limited on what I could do, but for a little bit of quick decorating they were fine.
The cupcakes were very good.  The texture was more dense than a typical cupcake and they were very chocolatey.  My husband really liked the buttercream as it had a little bit of caramel undertone to the flavor.   I enjoyed the unique flavor of the buttercream as well.  All in all I consider this project a success.
I'm really exited about next week's assignment – Chocolate Covered Strawberry Cake.  And I'm really looking forward to being home in my own kitchen.