This week we had another free choice as to what we wanted to bake.  I looked through the list of the cakes Marie baked before the group officially started and narrowed down what I wanted to try.  The cake that caught my eye was the Ginger Cheesecake with Gingerbread Crust.  This cheesecake is a perfect fit for this time of year because it has ginger and cardamom added to it.  And not only that — the cake is encircle with gingerbread cookies!  Now what could be more adoreable than that?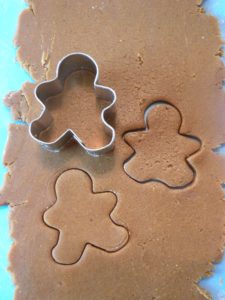 To be fair, the gingerbread cookies are optional in this recipe. If you want, you can purchase gingersnaps and grind them up for the crust.  But seriously, the gingerbread cookies are the funnest part of this recipe.  So for me, there was no question on whether or not I was making them.
The gingerbread dough was easy to mix up.  The dough is flavored with molasses and the spices of ginger, cinnamon, nutmeg and cloves. The dough is put in the fridge for a couple of hours to firm up.  When I took it out later in the day, the dough was easy to work with and rolled out nicely.  I cut out the small gingerbread boys and girls and then cut out squares to be crushed up for the crust.  The crust is made by adding butter and a little salt to the cookie crumbs.  I elected to leave out the salt since we are watching the sodium in our home.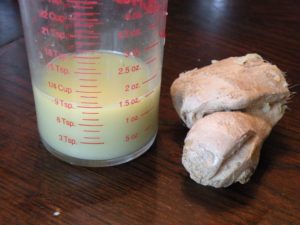 The cheesecake itself went together quite easily also. One unique part of this recipe was the addition of ginger juice. To acquire ginger juice, you take a large piece of fresh gingerroot and grate it.  Then you squeeze the grated ginger to extract its juice. (The gingerroot is then disposed of. )     The main components of the cheesecake batter are cream cheese and sour cream.
The cheesecake is baked in a water bath for an hour and then left in the oven with the door closed for another hour.  Then you cool it on a wire rack for another hour before putting it in the fridge overnight.  So this dessert definitely has to be made the day before you want to serve it.
To serve the cheesecake, run a hot knife around the inside of the pan to release it, and place on a serving plate.  Then you press the gingerbread cookies around the outside.  You can use jam to adhere the cookies a little more securely to the cheesecake.
My family really liked this cheesecake.  The ginger flavor was quite strong but not too much.  It was refreshing to have something a little out of the ordinary and these spices just feel like Thanksgiving to me.  And if you make this cheesecake, don't leave out the cookies because they were our favorite part of this dessert (I've already received a request to make more).