This week's baking project was the basic Angel Food Cake that could be dressed up any way we wanted.    Since I was planning to cook Thai food on Saturday night, I thought it would be fun to keep that theme going.  I did a little bit of looking on the internet and decided to make an angel food cake with lime and coconut, since  those are two predominant flavors in Thai Cooking.  (I found that recipe here: http://www.squidoo.com/angel-food-cake-recipes)
Since there are so many different sizes and shapes of angel food cake pans, Rose provides a recipe that uses one egg white per one cup batter so that the reader can easily multiply the recipe to the size of the pan.  The pan I have is 8-cup capacity, or half the size of a full sized pan, so I multiplied the recipe by 8.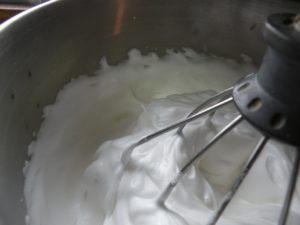 The first thing is to make a meringue by beating the egg whites and sugar to stiff peaks.  Then the dry ingredients are added and folded in a little bit at a time.  Once in the pan the batter should be about 1/2″ from the top of the pan.  Now I'm not sure what happened with mine because I ended up having enough batter left over to fill a small loaf pan.
We have a fairly new toaster oven that has a convection oven setting on it and I decided I wanted to give that a try.  Since I'm fairly new to the whole convection thing I decided to bake it at 325 as I've heard that you should reduce the temp when using convection.  I wasn't sure how long to bake it but I was thinking about 20 minutes.  I watched the cake rise a few inches above the pan and then it started shrinking back into the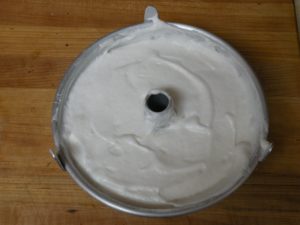 pan.  Since I had read in the instructions that this is typical, I didn't worry about it.  It appeared to be done after about 23 minutes so I removed it and set it on a raised cooling rack.  We had some shopping to do so we left for a few hours.  When I came back, I noticed that the cake was now far below the top of the cake pan by about 1-1/2 inches or more.  So I'm not sure if this is an indication of it not cooking long enough or what.  The bottom of the cake also seemed very moist even though it felt done.  If anyone knows, please leave a comment for me.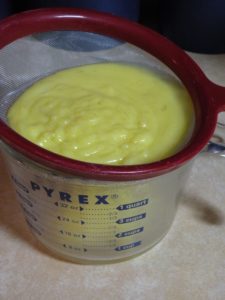 The lime custard is made by mixing 2 eggs, 2 egg yolks, 1/2 cup sugar, 6 T. lime juice, 2 tsp lime peel and 1/2 cup butter together in a double boiler and heating to 160 degrees.  Then you strain the custard and refrigerate until completely cool (I made mine the night before we were going to have the cake).  After it is completely cooled, you beat 1 cup whipping cream and 1/2 tsp vanilla to stiff peaks and gradually add 3 T. sugar.  Gently fold the whipping cream into the lime mixture.
I cut my angel food cake into third horizontally, and filled it and frosted it with the lime custard.  Then I pressed toasted coconut onto the outside.
I got rave reviews on this cake!  The flavor of lime went perfect with the light texture of angel food cake. It was also the perfect complement to the Thai food.  We will definitely be making this again and very soon I am sure.
Next week is the Bostini and I can hardly wait.  I have been drooling over this recipe since the first time I looked through Rose's book.