Today's assignment with the Heavenly Cake Bakers was the Bostini.  I have been waiting impatiently for this recipe to come up since the first time I thumbed through Rose's beautiful cookbook.  The picture of a mug full of pastry cream, topped off with a small cake on top and covered in hot fudge indeed looks heavenly.  This recipe is basically a sophisticated variation of Boston Cream Pie, with orange added to the cake for an extra twist.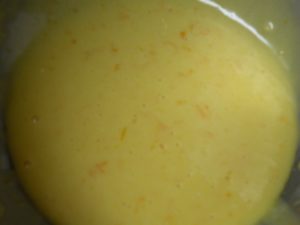 There are basically three parts to this recipe: First, the Orange Glow Chiffon Cupcake Batter, the Vanilla Bean Pastry Cream Sauce, and finally the Chocolate Butter Glaze.  However, none of these steps takes an extensive amount of work so don't let that discourage you from attempting this dessert.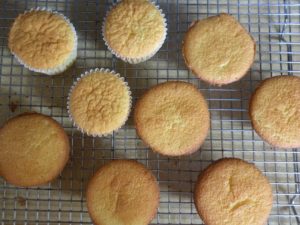 The Orange Glow Chiffon Cupcake Batter went together very easily.  This is an oil based cake so once the dry ingredients are mixed, you add oil, egg yolks, orange zest, orange juice and vanilla.  The  batter  thickens up nicely. In a separate bowl, you make a meringue which is then folded into the batter.   The result is a light orange batter which pours easily into the cupcake pan.  The instructions call for a silicone pan but since I don't have one, I used my aluminum pans and I lined the bottoms with parchment.  The full batter recipe yields 12 cupcakes and so I decided to halve the recipe to end up with 6 cupcakes.  Now I do not understand what happened, but out of my half recipe of batter I actually came out with 12 cupcakes.  This is really weird and I do not understand.  Last week when I made the 8 cup version of angel food cake batter I also ended up with way too much batter and ended up filling a loaf pan with the extra.  Anyway, the cakes baked up nicely.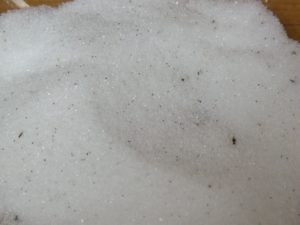 The next step was the Vanilla Bean Pastry Cream Sauce.  This sauce is supposed to be a cross between pastry cream and creme anglaise.  The first step was quite interesting in that you scrape the vanilla bean seeds into the sugar and salt mixture and mix it up with your fingers which I have never seen done before.  This mixture is heated with heavy cream until it comes to a simmer.  Then there is a quick exchange when you mix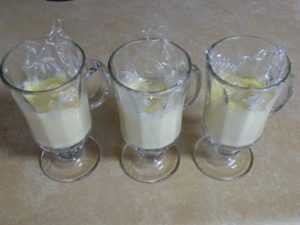 some of the cream into the egg yolks and then put the egg yolk mixture back into the cream.  I didn't get any pictures of this since it was rather quick moving and I was afraid if I stopped to take pictures Iwould have a curdled mess on my hands.  The sauce is then heated a few minutes longer and it becomes very thick.  After straining the mixture you put it it directly into custard cups and refrigerate.  Now I seemed to have the opposite problem I did with the batter because with the pastry cream I again made a half recipe which should have yielded six servings.  I had 8 oz. cups rather than the 6-7 oz. cups, but I only needed to make 3 Bostinis so I figured I would have plenty left over.  I barely had enough to fill 3 of the glasses and even then I didn't fill them as full as I wanted to.  I really am not understanding what is happening with these measurements and yields.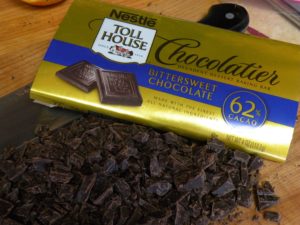 The last step couldn't be easier.  Basically you heat the butter in a saucepan and when it is simmering you add chopped chocolate.  The recipe calls for 62% chocolate.  Normally I use Ghirardelli chocolate but this time I tried Nestle Chocolatier.  The sauce came out shiny and smooth.  My mouth was watering.
To serve the Bostini, you please a cupcake upside down over the custard and then top with fudge glaze.  Since I didn't have quite enough custard I put an extra layer of cupcake in so that I could still have a nice dome above the glass.  This did make it a little difficult to eat though.  Next time, I think I will actually put that extra layer of cake in the middle of the creme and add a layer of glaze.  That way, it will break up the custard a bit and in my opinion it will be even better.
We were very pleased with the Bostini and look forward to having it again.  It is definitely a showpiece dessert that tastes as great as it looks.