Mmmm. . . . chocolate!  I'm so happy we got to do a nice deep chocolate cake this week.
I've tried making molten chocolate cake before but I always seem to have trouble getting a nice gooey middle without the cake itself being underdone.  Rose has solved this problem by using chocolate ganache in the center so that it will stay liquid.  This seems like a pretty basic idea and I'm just wondering why in the world no one else has ever done this.  Kudos to Rose for coming up with a brilliant idea.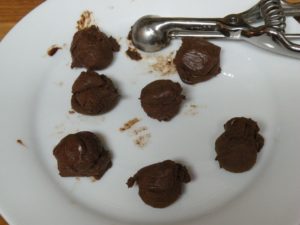 The ganache needs to be made a few hours ahead of time so that it can hold the shape of a ball.  Now I will be honest here — I read through the instructions and the whole saran wrap in an egg carton thing just sounded like a whole lot of work and mess to me.  Therefore, I decided to do this step my way which I think worked just fine.  I made the ganache by heating the cream and pouring it over the chopped chocolate.  Then I put the bowl of ganache into the fridge overnight.   The next day when I was ready to make the cakes, I scooped the cold ganache from the bowl using a small scoop.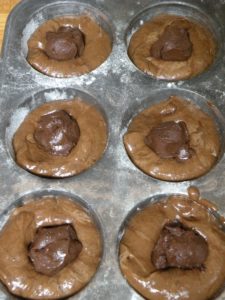 The cake batter  is made by melting chocolate, cocoa and butter. Then eggs and creme are mixed into the chocolate.  The last step is to make a meringue from egg whites and sugar, which is also folded into the chocolate.
I was really wishing I had some small brioche pans or other decorative shaped pan.  Since I did not, I used a muffin pan.  The cups are filled three-fourths full and a ganache ball placed in the center.  The instructions say specifically not to push the ball down into the batter.  I baked the cakes for about 12 minutes and let them cool in the pan for about half an hour.  The cakes were very pretty and puffed up when I first took them out of the oven but after cooling, they fell.  The ganache seemed to be coming out of the tops of my cakes which I guess then becomes the bottom so I guess that's okay.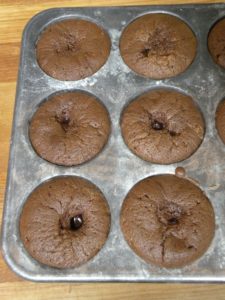 I served the cakes with a little sweetened whipped cream and they were very well received.  I thought that it was a nice cake texture and really loved the soft ganache inside.