I have been looking forward to making this cake for the last couple of weeks.  The first time I read through the recipe I knew that I wanted to use starlight mint ice cream for this.  I know – the flavor suggestions were much more sophisticated — like coffee, vanilla bean or dulce de leche.  But for me, I could just taste this cake made with my favorite ice cream.    I have to tell you that I was not disappointed.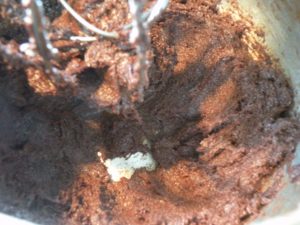 This recipe uses a chocolate cake that has oil in it rather than butter.  Because of this, the cake stays soft when frozen.  It is the same cake used for Rose's German Chocolate Cake.  I wanted to try the sandwich rather than the cake so I made a half recipe in a ten inch cake pan.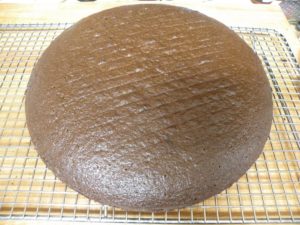 The cake went together quite easily, although the first step had me worried that I had ruined the whole thing.  I was to whisk cocoa and boiling water together until smooth.  What I ended up with was a very thick paste.  I added a little extra water and didn't know what to do so I forged ahead.  I was so sure that it had to be wrong that I kept recalculated my half recipe to see if I had added too much cocoa or not enough water.  I was worried right up until the end when it said the batter should be like a thick soup, which seemed about right to me.  I baked it for only about 20 minutes when it seemed done so I took it out.  It didn't take long to cool and then I sliced it in half and assembled it.  I was quite impressed that the cake held together very well even when thinly sliced and had no problem moving it to be assembled.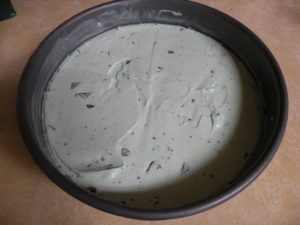 Next came the Snowball Hot Fudge Sauce.  I melted the butter and chocolate in the microwave.  The cream and sugar are brought to a boil on the stove and then added to the chocolate mixture.  I had  no problems at all.  The sauce thickens up quite a bit as it cools.
The sandwich held together just fine for eating with your fingers and I liked the idea of using a dipping sauce as Rose suggested.  But it also looks great served on a plate with the sauce drizzled over the top.
We loved the overall flavor and textures.  I felt like this particular sauce was extremely sweet and in my opinion you could cut the sugar in half or even just go with a plain ganache.   But this recipe is definitely a keeper and one we will make again.