MMMM — Marionberries!  They make me think of Oregon because of course that is where they are from.  Our family lived in Oregon for 7 years and we absolutely loved it.  We loved the climate, the people, and the lifestyle.  And I loved being so close to the ocean. My vision of a perfect day is to gather the family and head to Cannon Beach.  When I mentioned that I was making Marionberry Shortcake this week, the first thing my daughter said was that she missed going to Sauvie Island.   I miss that and so much more.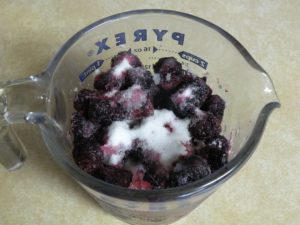 Because I live in small town USA I did not think that I would be able to find any frozen Marionberries so I was absolutely thrilled when I found them at my local store.  And I have to tell you that the Marionberries are really what made this dessert fantastic.
The genoise cake was pretty strait forward to make.  You first make beurre noisette.  Then you heat your eggs over steam just until they are lukewarm.  You whip the eggs on high in the KitchenAid for about 5 minutes.  Then it is just a process of folding in the flour and the beurre noisette.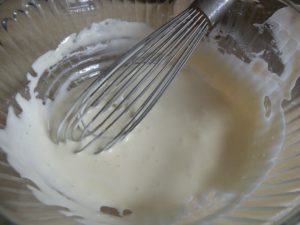 Now I ended up making my cake twice.  This was not because I made it incorrectly, but I made a very bad choice in what pan to bake it in.  First of all, I should say that I was very good and resisted buying the Nordicware Shortcake Basket pan.  I really really wanted to buy it and I even saw that the local cooking store had it available.  But right now I am trying to be really good about not spending money I don't need to.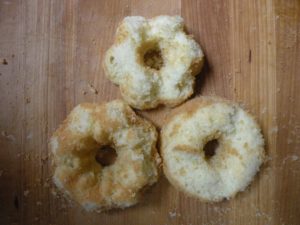 So, I did not buy said pan.  So I wondered what else I might use to make it feel a little special.  I decided that I could use my mini bundt pan.  Now I DID ask myself if it would be a problem to make genoise in that type of a pan.  But, I figured that if we could make a genoise cake in a rose shaped pan, I should be able to use a bundt pan.   Well  — no, it did not work.  I greased the pan well, and the cakes looked great after coming out of the oven, but when I  attempted to take them out of the pan, they were just not coming out.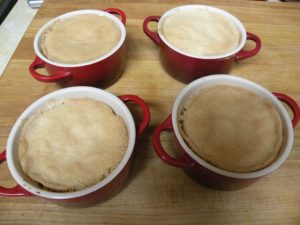 So, take 2 on the cake.  Made the batter again, and this time I decided to try my little mini cocotte dishes by Le Creuset.  I greased and lined them with parchment and popped them in the oven.  They baked up very nice.  And this time, they came out of the pans very easily and looked very nice.
I brushed the cakes with the marionberry syrup and made up a little whipped cream for the top.
All I can say is YUMMM!  Every bite made me feel like I was back in Oregon.  Hubby thinks the recipe is a definite keeper –so much so that he even thinks we should buy the basket pan!  I'll probably wait until next summer for that, but I think we may be making this again soon.