The last several weeks have been pretty crazy for me.  I've had lots to do at work and lots going on at home too.  I didn't even get last week's assignment done.  So I told myself that I absolutely had to get this week's baking project done.  Since I'm headed out of town on Sunday afternoon (back to Mayo for a few days), and since I ended up having a short work day today (Saturday) I decided to stop on my way home from work to get what I needed and get to work baking.  I honestly hadn't even looked through the recipe until this morning so hadn't had much time to ponder anything about it.  But it looked pretty straight forward.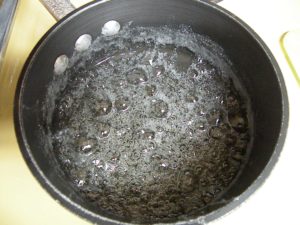 Of course I had only one choice when it came to the plums because of my lovely small town (note the sarcasm).  Anyway, I bought said plums and blueberries and headed home.  There is no picture of this recipe in the book so I was excited to see what it was going to turn out like.  The first step in this baking project is to make caramel.  This is done by heating sugar and water together until it turns a deep amber color. You must watch carefully so that you pull it off at the right time.  The caramel is then poured into the bottom of a prepared pan.  I decided to halve the recipe and use a six inch pan because I didn't want to make a whole recipe and have it go to waste.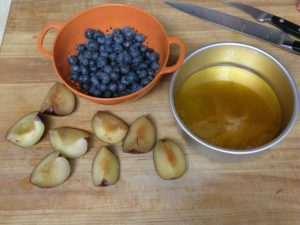 Next, you remove the pits from the plums and then arrange the fruit in the bottom of the pan. I had PLENTY of fruit for my six inch pan so I left some of the blueberries out.
The final step is to make the batter.  You mix the dry ingredients first and then mix with the butter.  I decided to do this by hand (literally) instead of using the food processor.   Then you add the eggs and vanilla.  The batter could not have been easier to make.  I filled the pan and I was a little worried that the pan would overflow in the oven.  After I took the picture, I decided to remove a little batter.  The cake baked up perfectly and came out of the pan quite nicely.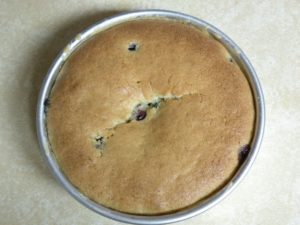 We were pretty busy  most of the evening and so we didn't actually try the cake until the next day.  My hubby, my daughter and I really liked it and we definitely will make it again.  I definitely liked how easy it was to make.   My husband liked that it wasn't too sweet  yet  it was still sweet enough for the rest of us.  It was just a nice balance of flavors.