I really enjoyed making the Chocolate Covered Strawberry Cake.   This recipe had three parts: the cake, the mousseline and the fudge icing.  I had read and reread the recipe several times last week and the part that I was a little nervous about was the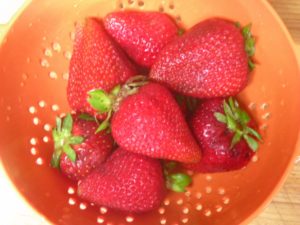 mousseline.   Part of my tepidation had to do with the strawberry butter that was a key ingredient in the mousseline.  I looked for the American Spoon brand but couldn't find it (no surprise really since I live in a small town).  I went ahead and bought a strawberry spread but was not sure about it.  After I got home from the store I looked up some info about fruit butter and found that fruit butter actually contains no butter at all  – it gets its name because it has such a smooth and spreadable consistency.  After further reading I decided that since I already had fresh strawberries, I would just go ahead and make my own fruit butter.  It was very simple – we baked the sweetened fruit in the oven until it had reduced and was quite thick.  I loved the end result and plan on making some other flavors too for use on toast or even as a glaze for meat.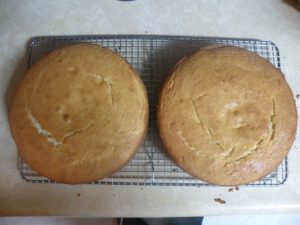 Later that evening I started baking the cake.  It seems that I always forget to take the eggs out ahead of time so then I am sitting around waiting for them to come to room temp.    But once I could actually get started, the cake went together very easily. I melted the chocolate, mixed the liquid ingredients and made the batter.   I skipped making the cupcakes and just made two 9" rounds.  The thought of white chocolate in my cake was really making my mouth water and I couldn't wait to taste it.
Next came the mousseline.  The recipe requires that you heat a sugar syrup to firm stage and mix it with the egg whites to make a meringue.  Unfortunately I don't have an instant read thermometer that went as high as needed, so I ended up using a candy thermometer in the syrup.  There wasn't much liquid in the pan so I had to constantly tip the liquid to go over on the thermometer.  Eventually we got to the right temperature and I added it to the egg whites which were beaten to stiff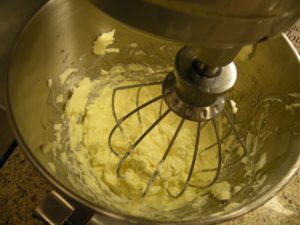 peaks.  Sometimes I have trouble getting my egg whites to nice stiff peaks but I found out the secret to that is using cream of tartar.  (I watched a little video on Rose's website last week.) My egg whites were nice and stiff and were ready to add to the butter. Rose's instructions warned that the concoction would look curdled before it would come together and I was happy to know that since that is exactly how it happened.   I just pressed on and soon it turned into a creamy and beautiful mousseline.
Next came assembling the cake.  I had a little trouble with the cake crumbling when I split the layers.  I think it would have been fine except that you are supposed to layer the mousseline and strawberry butter between each of the layers.  I thought it would be difficult to spread the strawberry butter on top of the mousseline and decided it might be easier to spread the mousseline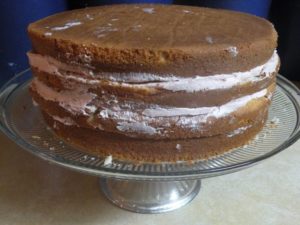 on the top of the layer and then spread the strawberry butter on the bottom of the next layers so that when it was assembled it would all come together correctly.  Unfortunately, it was a bit too much handling of the cake and it crumbled a bit, but not to the point of disaster.  Next time I think I would do as Raymond did and layer the strawberry butter first and then the mousseline.
Then for the finale – making Miss Irene Thompson's Dark Chocolate Frosting.  According to the book,  Miss Thompson, on her deathbed, gave this recipe to a co-publisher of a magazine and made her promise that if it was ever published it would bear her name.  It was very easy to make.  I used unsweetened and 60% Ghirardelli chocolate and melted it at 50% power in the microwave.  I have found that this works quite well and is faster and much less of a mess than doing it in the double boiler.  Then you add butter, corn syrup and vanilla. It came together in a snap.  I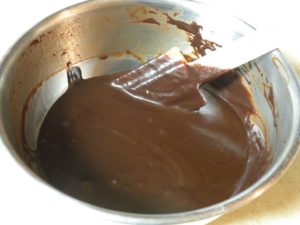 then poured the frosting (which was quite thin at that point) over the top of the cake.  The icing just smoothed right down on top and dripped sporadically down the sides.  I went back with a small spatula and added more on the sides of the cake.  I let it all rest for about half an hour as suggested and then poured another layer of icing down the sides.  I smoothed the sides with a scraper dipped in water and voila!  Thank you Miss Irene Thompson because your recipe is exactly what I have been looking for for a while now.  I needed it a few weeks ago when I was making a Boston Cream cake and couldn't find something suitable.   This icing recipe will be a staple for me.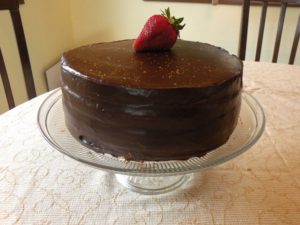 Tonight we got to sample the cake.  My husband loved the cake itself.  He does not like very sweet things and this cake fit the bill for him.  I am still getting used to the different texture of scratch cakes but I quite liked the flavor.  We were both a little disappointed in the mousseline which might be because of the homemade strawberry butter but we're not sure.  It just wasn't as flavorful as we expected.  I would like to try it again after finding the American Spoon strawberry butter to see how that compares.   Overall I quite enjoyed the cake though, and I am very happy to have found the dark chocolate frosting recipe.