Oh my goodness . . . I am totally in love with this cheesecake!  Now this may not seem like a bold statement to many of you but those who know me can testify that I'm pretty much take it or leave it with most things that do not involve substantial amounts of good quality chocolate.  I have to confess that I came close to not even making this recipe.  I'm kind of fickle when it comes to coconut – sometimes I like it and sometimes I don't.  So I was discussing this with hubby and stating my arguments against making this recipe but he convinced me that I really should try it.  I am telling you, this cheesecake is wonderful!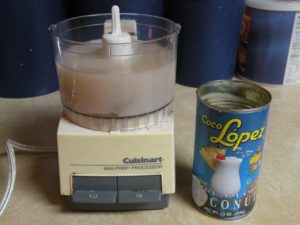 There are three ingredients that contribute to the coconut flavor of this cheesecake.  There is coconut extract, sweetened coconut flakes, and cream of coconut.  After I finally decided to try this recipe, it looked like I wasn't going to be able to make it because I couldn't find the cream of coconut. You buy the cream of coconut in the  liquor section by the bitters.  We struck out the first two places we went but we struck gold in our last ditch effort.  They actually had two cans and I debated on buying them both but I was still a bit skeptical of the recipe and it was a bit pricey too.  The cream of coconut differs from regular coconut milk in that it contains solid coconut oil and so you have to process it in the food processor before using it in your recipe.
I decided that I would make the cheesecake  on Saturday night so that it could chill overnight and we could have it for our Father's Day dinner.  I also
decided that I would cut the recipe in half and use a 6" springform pan.  The crust consists of vanilla wafer crumbs, flaked sweetened coconut, salt and butter.  I used my mini cuisinart and it went together quite quickly.
The main ingredients of the filling include cream cheese, sour cream, cream of coconut, coconut extract and egg yolks.  Apparently the egg yolks are what thicken the batter.  The flaked coconut goes only in the crust and toasted as garnish.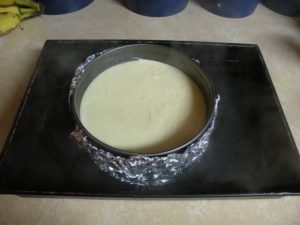 This cheesecake is wrapped in two layers of foil and baked in a water bath, which helps it bake evenly.  You are supposed to bake it for 45 minutes, turn the oven off  without opening the oven door, and leave it in the oven for another hour.  Somehow I really really misread these instructions.  So I opened the door several times to see if it looked done.  I cooked it another 5 minutes because it still looked runny.  At that point I went back to the instructions and realized my error so I went ahead and turned off the oven, left it in there for an hour and hoped for the best.  I was very happy when I took it out an hour later and it looked done.
So today all I needed to do was toast a little coconut to put on top before serving it.  As I stated before, we really enjoyed this cheesecake and I am sure that I will be making it many more times.  In fact, I am going tomorrow to buy the last can of cream of coconut in our town to send to my daughter who is away at school so that she can enjoy this recipe too.