This weekend's project was Chocolate Banana Stud Cake.  The recipe was fairly basic which is a good thing in my book.  I started by making a paste of cocoa and boiling water.  This is added to a mashed banana, sour cream, eggs and vanilla.  Then the dry ingredients are added alternately with butter.  Then it's into the oven to bake.  I decided to make two 6″ rounds so that i could sample one and have one to give away.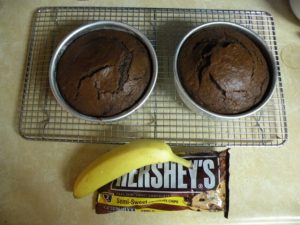 After baking I let the cakes cool for about 15 minutes and then I removed them from the pan.  The first one crumbled a fair amount on the bottom, most likely due to the fact that I didn't have parchment in the pan because I ran out and was too lazy to run to the store.  The second cake came out perfectly, however, so I figured I could eat the crumbled one and give the nice one away.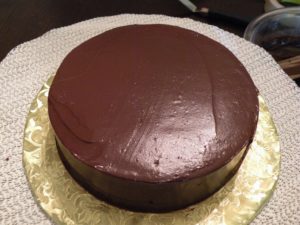 A basic ganache is made and allowed to thicken up over several hours before icing the cakes.  Everything went exactly as directed in the recipe.  The most time consuming part of making this is probably placing the chocolate chips on the outside.  I practiced on "my" cake and spaced the chocolate chips out a fair amount which ended up looking only so-so.  For the second cake I placed the chips closer together and it definitely looked much nicer.  This cake is going to go to some friends who took it upon themselves to help us out a few weeks ago.  They just called us up and told us they were going to take care of an assignment we had because they knew we were going to be gone most of the week and wouldn't have much time.  It was very sweet of them.
We liked the cake a lot.  I think that the banana flavor was a little too subtle though, and next time I would definitely add more banana.  Despite that, it is very good cake — moist and flavorful. We will definitely make it again.