You've all heard the expression, "Time flies when you're having fun."  Well, these past few months have flown by, but they have been anything but fun.  Honestly, they've been the hardest two months of my life.  Each day seemed to bring a brand new challenge heaped upon the other unresolved trials we were dealing with.  I am happy to say that I finally feel like I can breathe — a little.
I could probably write an entire book on the events of these past several weeks.  But since I don't care to relive every minute detail of it and I'm sure my readers don't either, I will make due with a short recap.  So here goes:
Marshall was hospitalized 5 times between November and January.  He was in two comas during December and what we planned on as having a wonderful Christmas all together ended up being spent with Marshall in the hospital and he has no memory of it.  With the help of many many friends we packed and moved a three story house to a two bedroom home three hours away.  It's been two months of dealing with insurance companies and social security and we are still waiting. We've had an assortment of additional medical issues that the entire family has been dealing with.  And we've had lots and lots of snow which I think everyone knows I do NOT enjoy.
But, on a high note, Marshall has been doing much better with the e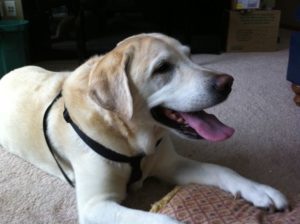 nsephalopathy.  He has managed to stay out of the hospital for three weeks now and has been doing well with the diet and has gone back to the Cardio Lab for exercise.  We are slowly getting settled in the house and have found most everything we need although the silverware is still mysteriously nowhere to be found. Orion is finally home with us and being in a different house didn't even seem to phase him.  He was just thrilled to be with his family.  (Thank you Chrissy and Jeff for being the best foster parents a dog could ever have — you are one of the biggest blessings we have had!)