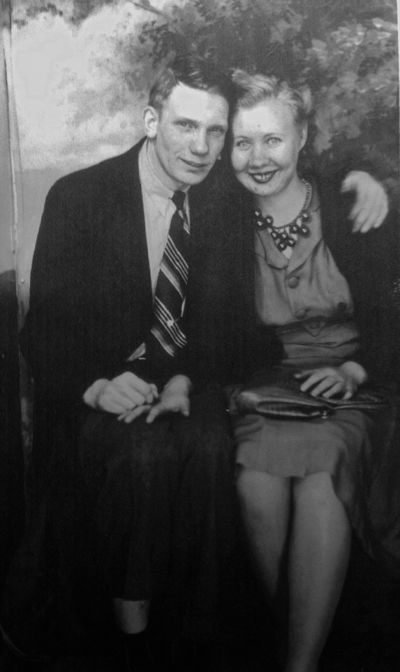 I am posting today in honor of my grandmother, Stella Buck.  I have many fond memories of visiting her while I was growing up.  Her birthday was the day after mine and it always felt special that our birthdays were so close together.
Grandma had six children and they all had large families so I remember lots of cousins at our family gatherings.  My favorite memories are of our Christmas Eve party with the entire family.   We would always read the nativity story, peel oranges by the fire and of course open gifts.  One Christmas that stands out in my mind is the year that she sewed each of the grandchildren a robe.  It felt so special that she had selected the fabric for each person and spent so much time to make them.
Grandma was an excellent seamstress which was a very useful talent to have when raising a young family during difficult times.  At that time flour came in fabric bags with different patterns on them and she would use them to sew shirts for her boys.  Her friends and family would give her old coats and men's slacks and she would  remake them into clothing for her children. She spent many hours teaching my mother to sew and when my mother got married they sewed her wedding dress together.
Grandma also had a talent for baking.  She was well known in her church for the pies that she would make and also made great bread and rolls.  In addition, she would spend each summer canning fruit so that it could be used the rest of the year.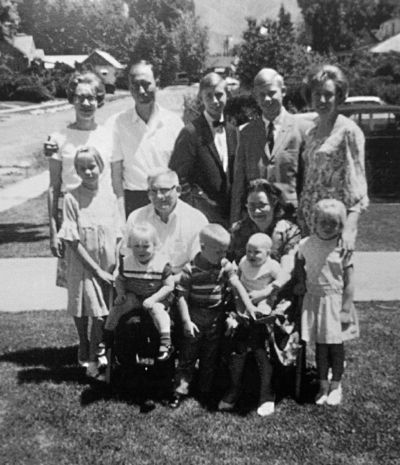 My grandmother was very active in her church and set a wonderful example of how a person should live.  I used to love to stay at her house and go to church with her.  She taught the young children for many years and she had a great desire to go on a mission.   As soon as she and my grandpa could retire they committed to go.  It was while she was in the mission training center that she was diagnosed with ovarian cancer.  Grandma insisted that she wanted to continue with her plans even though it meant receiving chemo therapy while being away from home and living in another state.  After about six months her health forced her to return home and she died several months later.
I feel like she was cheated out of so much of her life.  So many people look forward to the time that they retire and she never got to enjoy that time when it came.  I was newly married when she died and so we never got to have that adult relationship and she never got to see my children.  I am joining in Frosting for the Cause in the hopes that some day doctors will be able to detect ovarian cancer much earlier so that mothers and grandmothers can be with their families.
* * *
Mini Fondant Cakes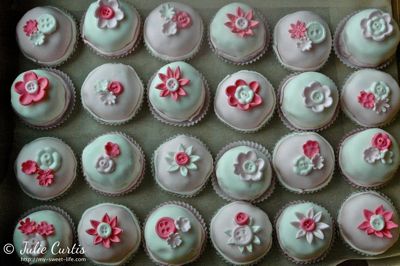 Because I remember my grandmother being such a good seamstress I decided to decorate some cakes with a sewing theme.
Begin by baking two layers of cake in quarter sheet pans.  Since my daughter is allergic to milk, I like to use a dairy free cake recipe I got from milkallergymom.  The recipe is:
* * *
Dairy Free Chocolate Cake
1.5 c flour
1 c sugar
1/4 cup cocoa powder
1 tsp baking soda
1/2 tsp salt
1 tsp vinegar
1 tsp vanilla
1/3 cup oil
1 c cold water
Heat oven to 350 degrees. Combine ingredients and pour into greased 8″ or 9″ square pan. Bake in oven until done, about 20 minutes.
* * *
While your cake is baking you can prepare your fondant so that it will be all set when you are ready. Recently I've been using homemade marshmallow fondant.  It has a great taste and is so much cheaper than storebought.  The recipe is readily available online but there is a great tutorial by Cookies&Cups here.
After the cake is cooled, put the two layers together with frosting between.  Cover the cake with saran wrap and refrigerate overnight.
The next morning, make your mini cakes by using a 2″ round cutter and cut out as many rounds of cake as you can.  Lightly ice the tops and sides of the mini cakes.  Now cut out fondant circles with a large round cutter (about 4-1/2″) and smooth down over each cake, and trimming nicely around the bottom.
To make the lace you can use a fondant mold or use regular lace from the store.  I would like to show you how to use store bought lace to make a fondant border.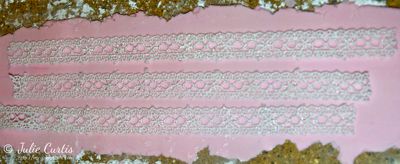 Purchase real lace the width that you desire.  When purchasing the lace, think about what pattern would impress well and not be too difficult to cut.  For example, I stayed away from large scalloped edges because I wanted to be able to make a straight cut and still have it look good.  If you are just making one large cake then you might not mind cutting a detailed edge but since I was making numerous cakes I wanted to keep it simple.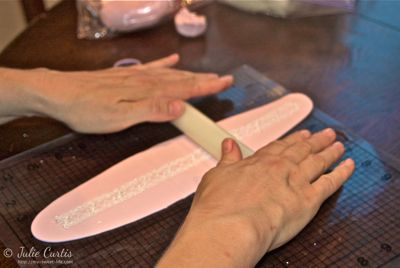 Roll the fondant out to about 1/4″ thick and lay the lace down on the fondant.  I found it was best to cut about three pieces each time I rolled the fondant.  Once the lace is in place, roll the fondant roller over the lace, pressing down fairly hard as you roll.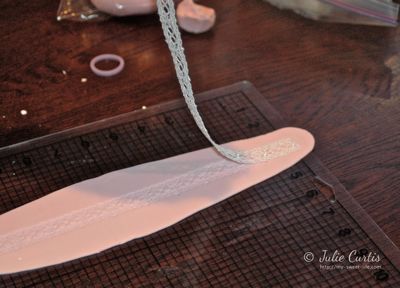 You can pull the lace off at this point or wait until the end to pull it off which actually gives it a little more stability while you are working with it.  Make straight cuts along the impressed edge with a pizza cutter.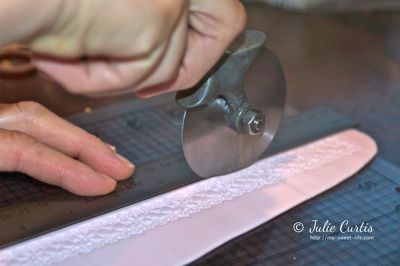 If you want to add some decoration and make it look even more like lace, use a decorating tip to cut out holes or designs in the lace. Again, this can be quite time consuming so it depends on how much detail you would like. Use a paintbrush to push the small dots out of the tip.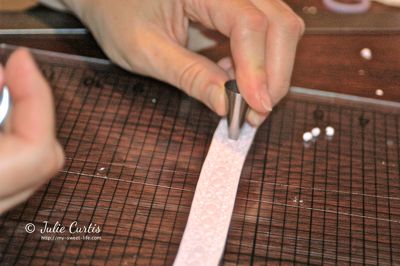 Top the cakes with fondant flowers and buttons. I really enjoyed making these mini cakes and I took them to the Sandra J. Schulze American Cancer Society Hope Lodge.  This is a wonderful place where cancer patients who travel to Mayo Clinic can stay while receiving treatment.