This past weekend I had the opportunity to make a very special cake — and I mean a VERY special cake.  You see, about six months ago I joined a nonprofit organization called Icing Smiles.  This group provides custom cakes for children who are battling critical illnesses. I was so excited to get started making cakes, but I had to wait for an assignment.  I waited and waited some more until about a month ago,  I finally received my call to action!
I had the privilege of making a cake for Jacob, who wanted a SpongeBob SquarePants cake for his 9th birthday.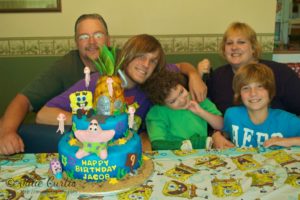 Jacob is an amazing boy who is not just battling one illness but several illnesses which include spina bifida and cerebral palsy.  Despite this, Jacob is one of the happiest boys you will ever meet.  I thoroughly enjoyed visiting with him and his family who are truly an inspiration in the love and support that they give Jacob in meeting his challenges. I'm grateful that I got to be a small part of a special day.  Happy Birthday Jacob!