This past year has been a little stressful for me.   And when I saw a "little" stressful, I mean that sarcastically.  In reality, this past year has been MASSIVELY stressful.  Which is not good for an emotional eater.  What's crazy is that I didn't even realize until last month how much emotional eating I had been doing.  I mean I knew my clothes were a fitting a little tighter and alL — but when I  stepped on the scale at the doctor's office I just about had a heart attack right there.  That was it.
SO. . . what's a person who loves baking and beautiful pastries supposed to do when its time to cut the calories a bit?  Let me tell you that cutting out sweets is just NOT an option for me. I mean I tried it for several weeks but I just can't do it. And by the way, I wasn't losing weight either.  So the only option I can see is to count calories and try to save some for a treat here and there.
I am finding this is a good plan but  it takes more work than I originally thought.  I checked the calories of  my favorite fudge cupcake at a certain large bookstore, and it came in at a whopping 599 calories!  That doesn't leave many calories for actually living on the rest of the day.
After searching the internet I came upon a recipe for low calorie cupcakes by Curtis Stone. Apparently he was on the show The Biggest Loser and he taught them how to make this cupcake which rings in at only 60 calories including frosting.  Can you believe it?  Just 60 calories! This was definitely a recipe I had to try.
So a few days ago I tried his recipe:
* * *
Curtis Stone's Vanilla Cupcakes with Banana or Raspberry Frosting
Ingredients
5 organic egg whites Pinch of salt 3 T. honey 2 tsp vanilla extract ¼ cup nonfat Greek yogurt ½ cup whole wheat flour 1 tsp baking powder    
Frosting:
1 cup nonfat cream cheese, at room temp
½ ripe banana or 1 cup fresh raspberries
Directions:
Preheat the oven to 325 degrees.
Place the egg whites in a large bowl and using a handheld mixer whip the whites on medium speed for 3-4 minutes or until the whites begin to lighten up and hold their shape.
Increase speed to high and whip in the salt and honey until the whites hold a soft peak, then add the vanilla extract.
Fold in the yogurt.
In a separate medium mixing bowl combine the four and baking powder and mix well.
Sift the dry ingredients into the egg whites a little at a time, gently folding them in with a rubber spatula.
Once fully incorporated, scoop the batter into cupcake tins lined with cupcake papers.
Bake the cupcakes for 15-20 minutes or until they have colored and gently spring back when pushed with a finger.
Remove from the oven and cool the cupcakes at room temp.
Mix the cream cheese and the banana in a small mixing bowl until well incorporated, leaving small chunks of banana throughout the frosting.
Once cool, spread a little of the banana frosting over the cupcakes and top each with a raspberry.
Serve. (Recipe from NBC.)
* * *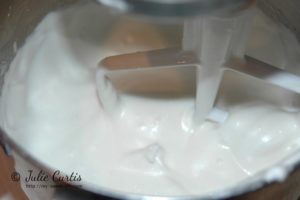 My baking went along according to plan.  I substituted all purpose white flour for the whole wheat flour.  The egg whites whipped up nicely and I was able to fold in the yogurt without deflating the batter.   I put approximately 2 Tablespoons per muffin cup which turned out perfect for the yield of 14 cupcakes per the recipe.
I decided to make half a recipe of banana frosting and half a recipe of the raspberry frosting.  I decided that the icing needed to be a bit sweeter so I added a little Splenda which helped tremendously.  The icing is a bit softer than what I normally like, but I was still able to make the cupcakes look pretty.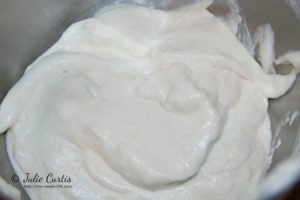 My final analysis:  The cupcakes honestly need a little tweaking.  I think adding some Splenda to these would help as they aren't very flavorful and remind me more of a muffin than a cupcake.   But the frosting, with the added sweetener, was a definite keeper.  My overall thoughts are that this is a good foundation that I can play with and come up with something I really like and still keep it low cal.
So while I'm baking up my traditional cakes and cookies over the next few months, I'll also be checking out a few lower calorie options.  Keep an eye on the blog — you might find something you'd like to try.