Seems so many of the other Heavenly Cake Bakers are disappointed when we bake something chocolatey.  This is something I really cannot comprehend.  I LOVE chocolate!  In fact, one of the reasons I decided to join the Heavenly Cake Bakers was to widen my horizons and force myself to bake more things that aren't chocolate.  But I am always very happy when the assignment involves chocolate.
This week's assignment was the Chocolate Layer Cake with Caramel Ganache.  I made sure to read through the instructions a few times before starting so I wouldn't have any surprises.  Since the ganache needed to sit for several hours I decided to start with that.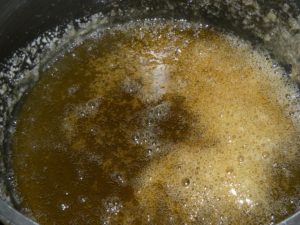 The first step to the ganache is making the caramel.   I have three little words that I suggest everyone write in the margin of their book:  Mis en place!  I started heating the water and sugar and thought I would get everything else together while it came up to temp.  Only problem was that there wasn't a whole lot of time and the caramel was starting to darken by the time I finished getting the food processor out, chopping the chocolate and measuring the cream.  Next time I will have everything ready before I start the caramel.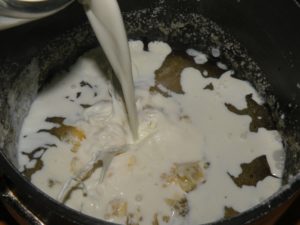 Rose instructs you to check the temperature of the caramel which turned into a bit of a challenge.  I considered skipping that step but was afraid there might be something magic about 370 degrees so I figured I had better do it to avoid any problems.   I had to tip the hot pan to get enough liquid for the thermometer and every time I checked it was only a little over 300 degrees.  As the caramel kept getting darker and darker I suddenly realized that maybe my thermometer didn't go any higher and sure enough, that was the problem.  So I let the caramel get a bit darker and then pulled it off the heat and added the cream.  I ended up with some chunks of caramel but was able to melt them back down over the burner.  Then I added the caramel to the chocolate in the food processor.  The end result was a very lovely and tasty ganache.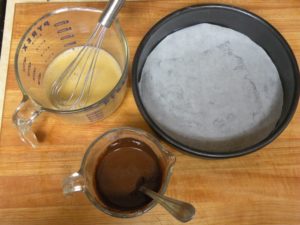 The cake is baked in one 9″ cake pan and then the cake is sliced into two layers.  The ganache is used as a filling between the layers and as icing on top.
The cake was very good and the ganche, which thickened up into a fudge-like consistency, was fabulous.  I would have preferred a stronger caramel flavor as it seemed rather subtle to me, but perhaps the caramel needed to be darker.  I will make this cake again and I will probably use this ganache with some of my other recipes as well.