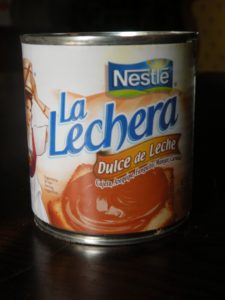 I am so honored to have been chosen as featured baker last week.  I didn't even think to explain how I decorated the cake when I posted so since there was quite a bit of interest I thought I would share what I did.  I love seeing how everyone adds their unique touches to their cakes and it gives me such inspiration.  So last week after I saw so many beautiful renditions of the cake I decided that I could not just have some plain old cake and decided to come up with something.  Of course the cake had caramel ganache so I tried to think of something that would complement the caramel.  Then I remembered that I had a can of Dulce de Leche left over from some flan I made a while back.  I put the caramel in a pastry bag and microwaved it just a touch to soften it up (make sure you take the decorating tip off) and that is what I used to pipe the design on my cake.  It really is a great little item that can be used to dress up a dessert by pooling some on a plate or drizzling it over the top.
Well, today's baking assignment turned out to be a very pleasant surprise.  I've secretly been dreading these little cakes for a while because I was afraid they would be just too plain for my liking (no chocolate AND no icing).  But I found this nifty little pan at Hobby Lobby and I started feeling a bit more positive about the whole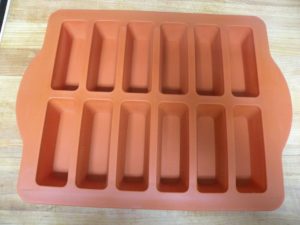 thing.  This actually turned out to be the PERFECT pan for making the financiers.  Not only is it a really nice size for the cakes, but while most silicone pans are a real pain to work with because they flop around, this pan actually has a steel reinforced rim which keeps it rigid when you are putting it in and out of the oven or removing the cakes.  It is made by Davison (www.davison.com) and is called a Dessert Bar Pan in case anyone is interested in it.
I usually start checking the blogs on Sunday afternoon to see if I can get a little preview of what is to come and see if there is any advice that I can use in my own baking experience.  The couple of entries that I happened to see were not very complimentary of the ingots and I started to worry.  It sounded like they  really were going to be as unexciting as I had figured (or worse) and I considered not even making them.  Instead, I started hatching a plan of how to salvage the recipe (more on that later).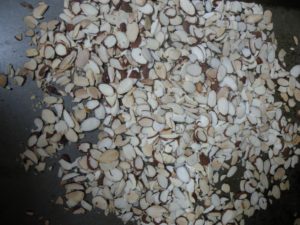 The recipe is pretty easy.  It requires toasting slivered almonds (I used sliced) which are then ground with sugar in the food processor.  The other ingredient that gives these cakes flavor is the beurre noisette.  I'm actually getting pretty good at making the beurre noisetts  since it's about the third time we've had to make it in the last several months. Once the almonds and butter are ready, they are mixed with egg whites and Wondra flour and it mixes up in about five minutes.
Rose instructs you to put it in the fridge for about an hour and then pipe it into the pan using a pastry bag.  Since I really didn't want to wait around an hour, I decided to just put it directly into the baking pan.  I put the batter in a measuring cup and then poured it into each cavity.  I didn't have any problem with this and would highly recommend others to do it this way.  I was also very happy when my batter came out perfectly for my pan and I had 12 little financiers.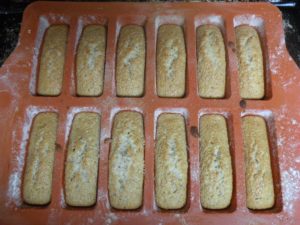 I popped the cake in the oven and they baked up very nicely.  I let them cool a bit and then took them out of the pans.  As I said earlier, I had worries over these little cakes, so in the meantime I had whipped together a few items to dress them up — some chocolate ganache (can never go wrong with that) and custard.  These two items came to mind because I figured the ingots were going to taste a lot like yellow cake and I decided to make some mini boston creams out of them.
So this was the point where I was very pleasantly surprised!  The ingots didn't taste like yellow cake at all and they weren't at all lacking in flavor.   The almond and browned butter flavors came through very nicely and made for a very tasty little cake, with a nice texture,  that I think would go well with a little fruit compote or a few berries.  I would like to try making these in my little teacake pan  as I can picture them on a dessert plate drizzled with berry coulis.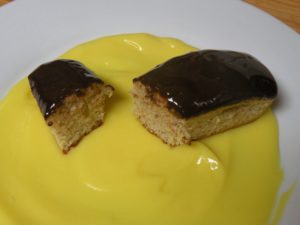 Now since I already had my custard and ganache ready, I went ahead and tried the cakes that way too.  The custard was actually a bit sweet (not from scratch) which I felt detracted from the almond flavor of the cakes.  But I really liked the chocolate paired with the almond and it added just a touch of moistness and elegance to it.
This was a great little recipe and one that I am very glad that I tried.  I am sure that I will be making these again and again.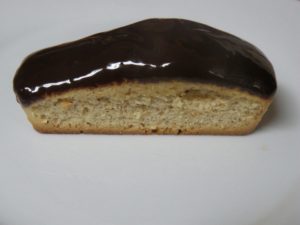 Next week is free choice and I really can't decide what I want to make.  There are so many recipes I am interested in that I am having a hard time narrowing it down.  So I guess you will be surprised next week.